> 90% recovery.

Lowest cost/sample.

Convenience.

Reproducible results.

Easy-to-use

Validated protocol for analysis of Urine samples.
Protein isolation is the first and most important step prior to most downstream analysis. Recently, there has been increased interest in the analysis of urine proteins, partly because of the potential of identifying candidate biomarkers via a minimally invasive procedure. For example, quantitation of nucleosides in human urine are of interest as a biochemical marker for cancer, acquired immune deficiency syndrome (AIDS) and the whole-body turnover of RNAs. The isolation of urine proteins will require a validated method that is reproducible, fast and compatible with many downstream analytical platforms.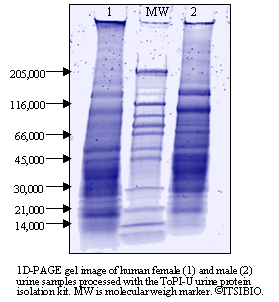 The ITSIPREP™ ToPI-U and standardized procedure for isolation and concentration of proteins from URINE prior to downstream analysis e.g. by electrophoresis (1D, 2D and 2D-DIGE) and western analysis. The ToPI.U mini kit contains optimized and ready-to-use reagents and concentration devices for processing of up to 20 urine samples.

Each kit contains optimized reagents in ready to use formats and consumables.
Solution 1
Solution 2
Solution 3
5000 KDa MWCO and collection tube
Micro grinder pestles and tubes